Boston is surrounded by water. If you live and work in the center of the peninsula, like most do, it's easy to forget. Me, I'm attracted to water, so I seek it out. Perhaps it's the pisces in me? If you work downtown, having lunch on the waterfront is a short walk (or bike ride) away. Try the lawn in front of the
Intercontinental Hotel
or the dock that goes around the
New England Aquarium
. For the nighttime scene, my favorite is biking along the
Esplanade
. Cambridge and the Fenway light up beautifully.
This summer, there will be plenty of events on the waterfront. Take your pick and soak (not literally, please) the pleasing sights and sounds of the river and the harbor.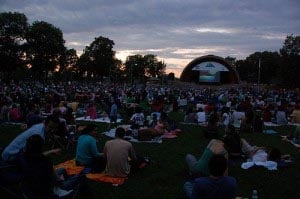 From July 15th on, every Friday catch a movie that's usually for kids, but made funny for adults. Despicable ME, Toy Story 3, Rango: the lineup looks pretty great this year. Movies generally start at sundown and bringing a blanket to sit on is a good idea.
This Saturday 8:30 - 10:00 PM
thirty boats blinged out in festive lights sail through the harbor. It's the perfect kind of fundraiser. Boats pay to participate. You get to watch for free. I plan on watching from
Temazcal Tequilla Cantiina
, the new bar with a bar on the waterfront with one wall that completes opens up and allows you to wander onto the dock. For a cheaper time, just grab some railing space on any dock on the map.
Next Tuesday all ferry rides to the Boston Harbor Islands are free. This saves you a good chunk of change, since it's normally $14 a ticket. So if you can get the day off, pack your hiking boots, swimsuit, camping gear, a camera, whatever and head to the waterfront.
Half-off Partying on the Water
What's your favorite way to enjoy the water in Boston?