There's no better place to see Shakespeare than outdoors. When the Bard is performed outside, the setting's the thing.
I have vivid memories of when I was young seeing All's Well that Ends Well in an open air barn in New Hampshire, with a lightening storm raging all around us. In Newport, Julius Caesar, became super eerie as the sun set and a fog rolled in. And my first week in college at NYU, my room mate and I walked down to Chinatown to see Shakespeare in the Parkinglot, which was interrupted by oblivious residents walking through.
Now it's time to make your own memories. Here's your chance to see Shakespeare outside this summer in Boston.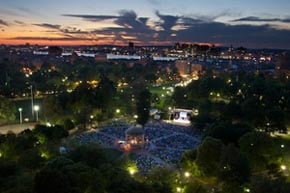 This year's S
hakespeare on the Common
debuts with
All's Well That Ends Well.
Pick up a picnic dinner at
Bina Alimentari
, disguise your drinks, bring a chair or blanket to sit on and settle in early to get a good view.
Showtime is at 8PM Tuesday through Saturday and 7PM Sunday, right in the middle of the Common.
In addition, the
Commonwealth Shakespeare Company
will be traveling to parks all over Boston to put on scenes of the Bard. Catch them July 31 at 5pm on the North End waterfront; August 6 2pm on the Common or August 13 with circus performers at 2pm on the Common.
And of course, all this is free.